Welcome to Domaine Karcher
A family-run property, Domaine Karcher lies in the heart of old Colmar, the capital of Alsace's vineyards.
Georges and his wife Nathalie will be delighted to welcome you and present their full range of Alsace wines.
A detailed description of each wine is accompanied by tasting tips, and a brief account of the family's history at the property.
About fifteen wines are always available for tasting.
Numerous awards...
Our wines are produced in an area of Colmar known as "La Harth". The wines from this terroir are typically lively, and have a substantial capacity to age.
These characteristics have been recognized at many of the competitions in which we have participated.
Our awards: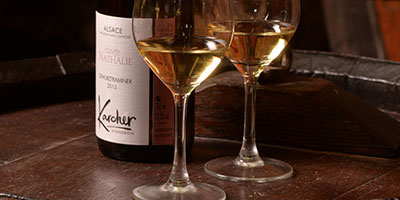 Years of experience...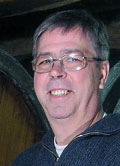 Georges Karcher talks about his wines as if each vintage were a new-born child.
"I studied wine-making at school, but first-hand experience is essential.
It takes several years to really understand a terroir's character.
My father used to say, "You don't make the wine in the cellar, you make it outside, in the vineyard."
And there can be no doubt that all the stages before the harvests are essential if one is to obtain good quality grapes, and from them, an exceptional wine.
Georges has long been committed to sustainable farming: treatments of the vines are carefully controlled, and grass is grown  between the rows.
The objective is to let the terroir express its full potential in the form of full-flavoured, elegant, distinguished wines.
Come and visit us
Our tasting room is just 500 metres from the Cathedral.
We are easy to find: it is the big yellow house with a courtyard in front.
Parking

Our car park is available for visitors coming by car.

See Google Maps below; Enter "Rue des Laboureurs" on your GPS, the Rue de l'Ours is the second on the right.

Delivery

Are you staying in Colmar?

We can deliver your purchases directly to your hotel or camping car.
Group visits

Various options are available with a tour of our cellar that dates from 1602 and wine tastings. Please contact us for more information by telephone, or fill out the online contact form.

Holding service

Want to continue visiting Colmar without carrying your wine around?

We'll look after it for your until you are ready to collect it!